How will AI transform the online experience?
Discussion
Oct 25, 2017
According to a survey from SLI Systems, 54 percent of mid-size retailers are using or plan to use artificial intelligence (AI) as an online tool in the next 12 months. The most popular applications are expected to be personalized product recommendations, customer service requests and chatbots.
The online survey of 234 e-commerce professionals primarily in the U.S., Europe, Australia and New Zealand showed that 56 percent are either using or planning to use AI for personalized product recommendations. That was followed by customer service requests, 41 percent; chatbots, 35 percent; and visual search, 32 percent. VR/AR, voice-activated apps and virtual buying assistants scored lower.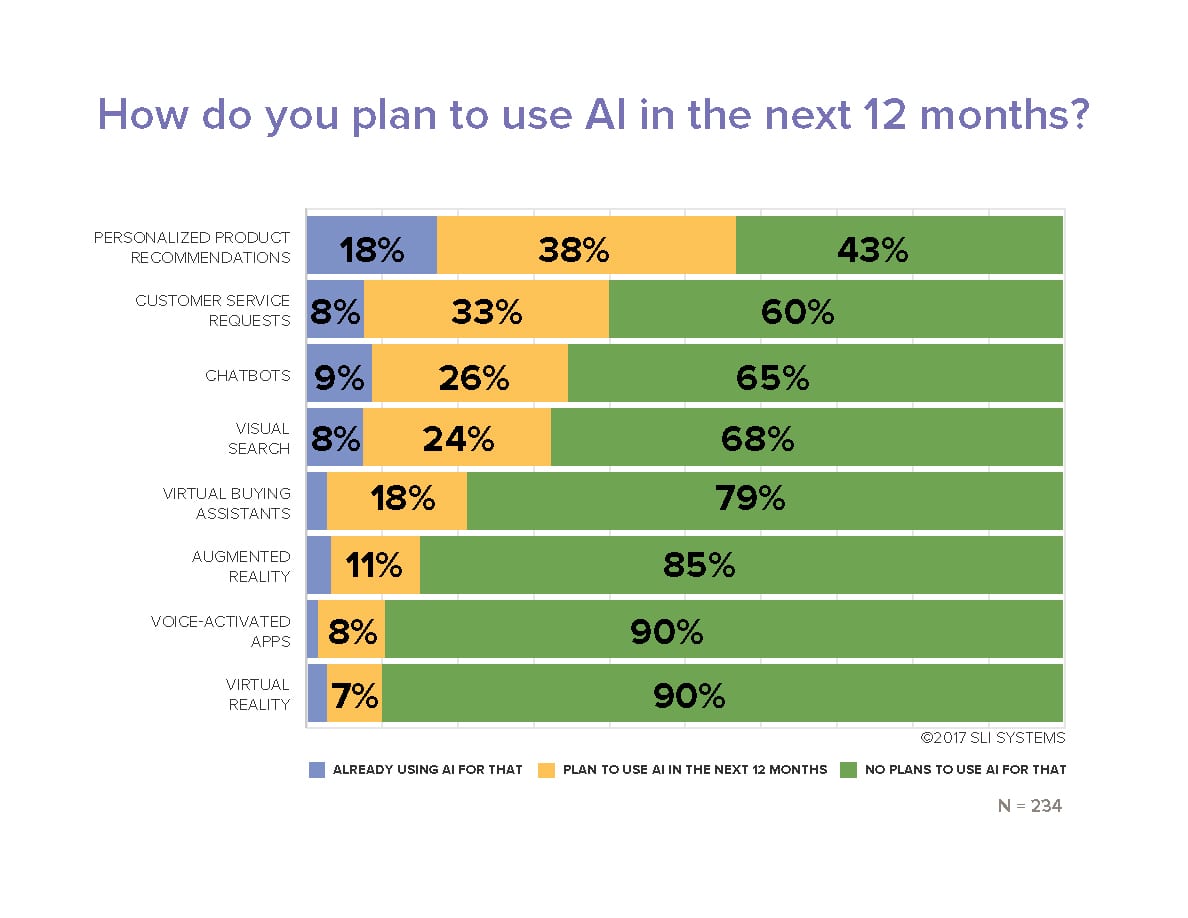 In a note from late September, according to Barron's, R.W. Baird's Colin Sebastian indicated that the "overriding theme" at the Shop.org conference in Los Angeles was "the enormous change still coming to e-commerce/retail, driven by: AI/machine learning; new business models in the age of Amazon; shift to voice/conversational commerce and adoption of AR/VR."
Noting that AI chatter had risen significantly at e-commerce conferences over the last two or three years, Mr. Sebastion said the message being relayed was that "machines will learn about and communicate with individual customers."
At Shoptalk Europe in Copenhagen earlier this month, RJ Pittman, eBay's chief product officer, gave a review of ShopBot, eBay's personalized shopping tool "powered by artificial intelligence (AI), cloud computing, and human judgment."  Launched last October on Facebook Messenger and later incorporated with Google Home, ShopBot enables consumers to text, talk or take a picture to search for items. The bot, which also uses historical purchasing data, then asks questions to fine-tune the search. 
Offering an example of a search for a dress for a wedding, Mr. Pittman, according to Essential Retail, said at the conference, "It needs to know the weather in Italy and what weddings actually are if you want to answer that question in a way no search engine can do today."
He believes bots will one day be designing products for consumers.
DISCUSSION QUESTIONS: Do you see artificial intelligence significantly transforming the online shopping experience in the years ahead? If so, in what ways? Which applications will take hold first?
Braintrust
"AI is hot and a great buzzword but not simple to do well. "
"...one certainty about the future of retail — consumers will be working with AI interfaces to make choices throughout the shopping cycle."
"...personalization is the low-hanging fruit for retailers...I think we'll see the more innovative retailers find more creative uses for AI than that."